Board Update 1/14/19
Student Celebrations
Agenda Item 4.0
Grove Junior High School – 4.01
Grove Junior High teachers Kim Wills and Mary Bessemer and eighth grade student representatives presented Grove's Students Onboard for Success (SOS) program. The SOS program is a leadership program where 8th grade students mentor incoming 6th grade students. Currently, the SOS leaders run the 6th grade orientation including leader training and kickoff days. They also work throughout the year on team-building activities to help incoming 6th grade students have a smooth transition into junior high from elementary school.
To view the presentation, click here.
---
Presentations
Agenda Item 5.0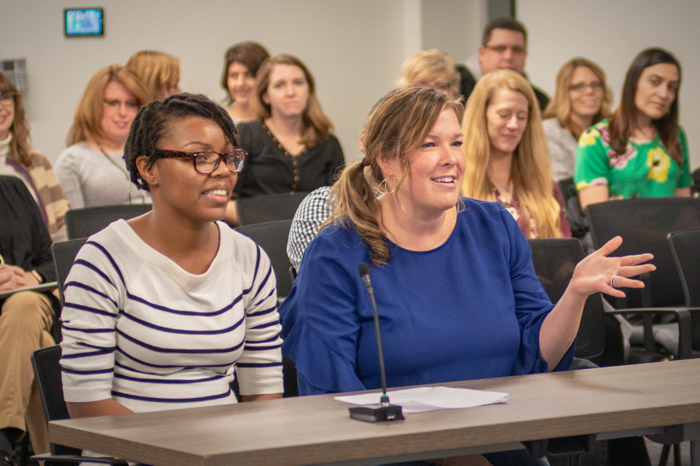 Coaching Update – 5.01
Presenters Jessica Goczkowski, Robin Brown, Alyssa Kocher, Erica Suarez, and Bob Padilla provided a coaching update to the board. The presentation outlined the benefits of the coaching model, including examples of how coaches work directly with students to support student learning and development, as well as positive feedback from teachers on how the program provides support and job-embedded professional development.
To view the presentation, click here.
Parent Satisfaction Survey and Next Steps – 5.02
Ben Grey, the Assistant Superintendent of Innovative Learning and Communications, presented the results of the 2018-19 Parent Survey to the board. The presentation included a comparison of current to prior year results and outlined the areas parents perceived as strengths and areas for improvement for the district.
To view the presentation, click here.
Early Literacy – 5.03
Dr. Kim Barrett, Executive Director of Literacy and Instructional Coaching, and Maureen McAbee, Assistant Superintendent of Instruction, presented an early literacy update to the board. The presentation included a comparison of two student groups in kindergarten and first grades and their performance from winter of 17-18 and fall of 18-19. There was significant improvement in the students' performance as a result of early interventions taking place within primary classrooms. The presentation also outlined the actions the district is taking to quickly identify and assist students in need of intervention with reading and writing.
To view the presentation, click here.
---
Discussion Items
Agenda Item 6.0
Board Policy Revisions – 6.01
The board discussed the policy changes recommended by the Illinois Association of School Boards (IASB) in IASB Press Update #99.
The board is scheduled to vote on the recommended changes at the February 11, 2019, board of education meeting.
---
Action Items
Agenda Item 9.0
Approval Of Program Fee For Typically Developing Preschool Students For The 2019-20 School Year – 9.01
The board approved a 3.10% increase to the typically developing preschool student program fee for the 2019-20 school year. The updated fees for 2019-20 is as follows:
$233 per month (4-day week, September – June) for a total of $1,165 per semester or $2,330 per year.
The school day (two and one-half hours) and school week:
 Time                                School Week
  8:15 – 10:45 a.m.            4-Day (M, T, Th & F)
12:00 – 2:30 p.m.              4-Day (M, T, Th & F)
Requires the first-month fee to be paid at the time of confirmation of placement in the program, with a family eligible for a refund of the first-month payment through July 31, 2019.
Approval Of K-8 Instructional Materials Fees: 2019-20 School Year List of Instructional Fees – 9.02
The board approved keeping the instructional materials fees unchanged for the upcoming 2019-20 school year. The instructional materials fees are as follows:
$35 for half-day kindergarten students
$55 for full-day kindergarten through fifth grade students
$65 for sixth through eighth grade students
Junior High School Extracurricular Participation Fees: 2019-20 School Year – 9.03
The board approved keeping the junior high extracurricular fees unchanged for the upcoming 2019-20 school year. The junior high extracurricular fees are as follows:
Basketball – $30.00
Cheerleading – $30.00
Cross Country – $15.00
Spirit Squad/Pom Poms- $30.00
Soccer – $30.00
Volleyball – $30.00
Wrestling – $30.00
Approval Of Modifications to Board Policy 8:25 – 9.04
The board approved changes to the language in Board Policy 8:25 Advertising and Posting or Distributing Materials or Literature in Schools or on School Grounds. The new language allows school-sponsored student groups, school-related organizations, and other governmental agencies/officials to use the names or pictures of CCSD59, its schools, or facilities with prior approval from the Superintendent or his/her designee to promote or document participation in CCSD59 events.
Approval Of Juliette Low Elementary School To Apply For A Target Grant In The Amount Of $700.00 – 9.05
The board approved the request of Jodi Marver, a classroom teacher at Juliette Low Elementary School, to apply for a Target grant in the amount of $700.00. If the grant is obtained, the money will be used to support a 3rd/4th grade STEAM (Science, Technology, Engineering, Arts and Math) field trip.
Approval Of Donation Of Library Books From Congressman Raja Krishnamoorthi To Salt Creek Elementary School – 9.06
The board approved the donation of library books from Congressman Raja Krishnamoorthi valued at $2,070.00 which will be used to support classroom and home libraries for students.