CCSD59 Invites You to Language Development Webinar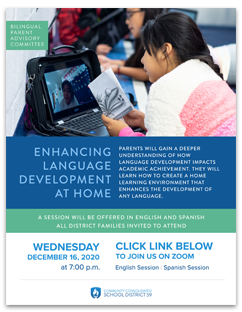 Are you interested in learning more about how language development impacts academic achievement in students? The Bilingual Parent Advisory Committee and CCSD59 Multilingual Programs invite all district families to attend a webinar entitled Enhancing Language Development at Home on Wednesday, December 16, 2020 at 7:00 p.m. Interested parents or guardians will learn how to create a learning environment that enhances the development of any language.
A session will be offered in both English and Spanish, and you can find the links to join us via Zoom below. We hope to see you there!
a